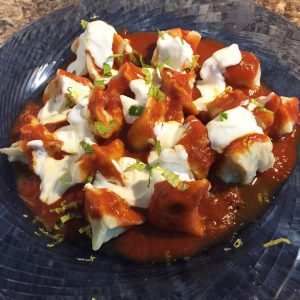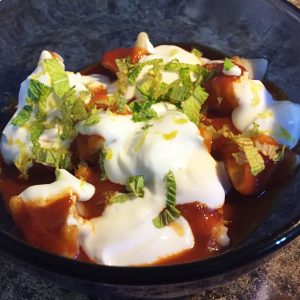 Make the Dough: Pour flour and salt into a pile on a work surface or large board. Make a well in the center of the flour and crack the eggs into it. Start with a fork, mixing the eggs and incorporating the flour. When the mixture is too thick for stirring with a fork, start using your hands to mix everything together, gradually adding the water, as you start to knead and press the dough. Knead dough for 8-10 minutes until you get a firm, smooth dough. Cover with a damp cloth and let it rest for 30 minutes.

Prepare the filling: While the dough rests, combine lamb, onion, parsley and salt in a small bowl. Set aside.

Prepare the yogurt sauce: Mix all ingredients in a small bowl. Store in the fridge. (Bring to room temp before serving)

Fill Manti: preheat oven to 325ºF. Cut dough into fourths. (Work with one piece at a time, leaving others covered to prevent drying) Roll dough on floured surface, into a thin sheet, about 1/16 of an inch thick. Use a knife or a pizza cutter to cut into 1½-inch squares. (you can use the edge of a ruler as a guide) Add a small ball of meat - about the size of a chickpea - to the center of each square. Pull the four corners up around the meat and press the four side seams firmly together to seal. Set manti onto a baking sheet, lined with parchment paper. (you'll need two baking sheets) Repeat with the rest of the dough. You should have about 120 manti. Bake manti for 15 minutes, until it just starts to brown. At this point you can let the manti cool and store it in the fridge for up to a day or in the freezer for up to two weeks. Allow to come to room temp before continuing.

Prepare the tomato sauce Cook oil and tomato paste in a small pot over medium low heat, stirring constantly, for about 7 minutes, until you get a deep rich color and oil is incorporated. Add Aleppo (or paprika and red pepper) and cook, stirring for 30 seconds longer. Remove from heat. Add water and whisk to combine. Set aside. (Reheat just before serving)

Prepare butter sauce: Melt butter in a small saucepan over medium heat. Whisk constantly for 1-3 minutes, until you see little brown flecks appear. Remove from heat. Add olive oil. Set aside.

Bring a large pot of salted water to a boil. Add manti and cook at a gentle boil 10-12 minutes, until tender. Drain. Return manti to its cooking pot. Pour butter sauce over and toss to coat, reheating gently, if need be. Season with salt, to taste. Divide manti between 6 bowls. Spoon on the tomato sauce and yogurt. drizzle on any extra butter sauce. Sprinkle with spices. Enjoy!
Make sure the dough is really, really thin!  But it's awesome!
Also, if you don't want to deal with making all those tiny packets, you can make small meatballs with the lamb filling mixture and serve them with egg noodles, which are almost identical in ingredients with the dough. May want to thin out the caramelized tomato mixture, but with the yogurt sauce on top it's wonderful, much easier and faster!
Nutrition Facts
Turkish Manti
Amount Per Serving
Calories 824
Calories from Fat 306
% Daily Value*
Total Fat 34g 52%
Cholesterol 130mg 43%
Sodium 758mg 32%
Potassium 630mg 18%
Total Carbohydrates 98g 33%
Protein 32g 64%
* Percent Daily Values are based on a 2000 calorie diet.